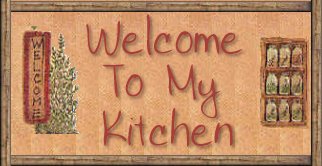 Home of Susan & Bob's Recipes

Cream Soup
1 lg. pkg. broccoli & cauliflower
2 c. water
1/2 c. margarine
1/2 c. butter
1 c. flour
1 c. celery
1 c. onion
1 ham slice, cubed
3 chicken bouillon cubes
6 c. milk
1 tbsp. pepper
salt to taste

Cook vegetables in the 2 cups of water, until tender. Set aside and save the water the vegetables were cooked in. In large pan, melt butter and margarine. Add celery and onions. Cook until onions become clear. Add flow and mix well. Add the milk and continue to sitir. Add bouillon cubes and pepper. When mixture starts to thicken, add ham. Mix well. Add vegetables and water. Mix well. Simmer on low heat for 45 minutes. Stir often. You can substitute potatoes for the vegetables. Great soup!

Breakfast Pizza
1 Pillsbury pizza crust
2 c. frozen hash browns
1 lb. sausage
8 slices bacon
8 eggs
2 c. grated cheese (your favorite)
Preheat oven to 350 degrees. Spray a 13x9 baking dish. Crumble sausage and dice bacon. Cook on stove till done. Drain well. Spread pizza dough in bottom of pan. Spread hash browns on top of dough. Next layer your sausage and bacon on top of potatoes. Sprinkle cheese on top of this. Beat eggs until smooth, then pour evenly on top of your pizza. Bake in oven for 45 minutes to 1 hour. We love this for any meal.



If you have comments or suggestions, email us at
devriesb@vianet.ca
These country graphics courtesy of:

Webpage designed and maintained by Leilani Devries