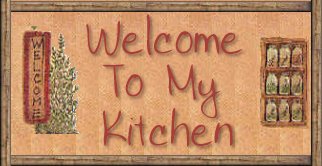 Home of Mike's Recipes

Pound Cake
1 pound butter
10 egg
3 1/2 cups flour
1/2 cup cornstarch
1 teaspoon lemon extract
1 box powdered sugar
1 tablespoon baking powder
1 tablespoon milk
3 tablespoons Crisco [ = solid vegeatable shortening]
Take three tablespoons of butter out of the pound, cream the rest of the butter with Crisco. Add powdered sugar and cream well together. Add one egg at a time beating after each addition. Sift flour, baking powder and cornstarch. Add this to first mixture, one tablespoon at a time until all is gone. Add
lemon extract or flavoring and beat. Last of all add milk and beat well.
Grease brown paper with Crisco and line a spring form pan.... paper should come up above the pan rim...the cake rises and is quite high. Put in dough and even all out. Bake in an oven at 250F for 2 hours or more [...this is not an error!! ;-)] and DO NOT OPEN OVEN until at least 1 hour after it is in. When cake is done...when cake tester comes out dry..., leave in oven for 5 minutes with oven turned off. DO NOT REMOVE FROM PAN UNTIL NEXT DAY. Cover with towel.
Icing
Mix about 3/4 of a box of confectionery sugar [ = powdered sugar] with a little milk... tablespoon or so (???)....Add a tablespoon of melted butter. Mix enough milk until proper consistency is attained [...spreadable... not dripable! ;-)] Last of all add a teaspoon of almond extract for flavoring. Spread on cake and decorate with walnuts or candied cherries around the edge... or even washed green hedge leaves with the cherries!!! Hehehe!



If you have comments or suggestions, email us at
devriesb@vianet.ca
These country graphics courtesy of:

Webpage designed and maintained by Leilani Devries