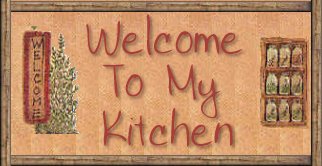 Home of Lesa's Recipes

Harvest Soup
1 pumpkin that is about as big as a gallon milk jug
1 cup of beans
1 large diced onion
2 medium grated carrots
1 grated zuchini squash
1 cup of corn
spices-garlic, salt, pepper to taste
5 chix or vegie bullion cubes
6 cups of water
Simmer all above, except the pumpkin for two hours. Place it all in the pumpkin and bake in oven at 350-375 until pumpkin is tender, perhaps about 2 hours.
Remember, these directions are totally out of my head, so they may not be precise, and you can adjust them to your own taste.

Mock Meatballs
3/4 c. cracker crumbs
1/2 c. (2 oz.) shredded
Cheddar cheese
1/2 c. finely chopped walnuts
or pecans
1 small onion, finely chopped
2 tsp. chopped parsley
1 clove garlic, minced
1/2 tsp. salt
pinch of ground sage
2 eggs, beaten
1 Tbsp. vegetable oil
1 (32 oz.) jar mushroom
flavored spaghetti sauce
hot cooked spaghetti
grated Parmesan cheese
Combine crumbs, Cheddar cheese, walnuts or pecans, onion, parsley, garlic, salt, sage and eggs; mixing well. Shape into 1-inch balls. Saute in a medium skillet in hot oil, turning frequently until browned; drain. Place meatballs in ashallow 2 quart casserole. Pour sauce over top. Cover and bake at 350 degrees for 45 minutes. Serve over spaghetti; top with Parmesan. Yield: 4 servings.




If you have comments or suggestions, email us at
devriesb@vianet.ca
These country graphics courtesy of:

Webpage designed and maintained by Leilani Devries