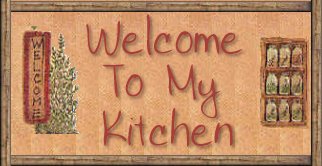 Home of Deena's Recipes

Scotch Shortbread
I have been making this every Christmas since high school, when it was given to me by Cathy Comerford in one of those classes where you do a Christmas presentation telling about how your family celebrates its ethnic Christmas. Cathy brought these delicious cookies to share with our class, and she also took seriously my request for the recipe!
1 cup butter
1/2 cup powdered sugar, packed in cup, then sifted
2 cups sifted all-purpose flour
Cream butter thoroughly. Blend in sugar gradually. Add flour gradually, then knead to blend well. Roll out to 1/4 inch thick rectangle on lightly floured board. Prick or press any desired design on top. Cut into squares 2 x 2inches. Place on ungreased bookie sheet 1/4 inch apart. Bake in moderate oven (350 degrees) for 18 to 20 minutes to a delicate golden color. Cool on cake racks. Makes about 3 dozen.

Oriental Chicken Cabbage Salad
I found this recipe in an early issue of "Country." It is always a hit, wherever I take it. I adore this recipe and make it every week or so.
1 whole chicken breast, cooked, cut and slivered; or
2 cans (5 oz each) cannedwhite chicken meat
2 tbl toasted sesame seeds
2 oz slivered toasted almonds
1/2 head cabbage
2 green onions, chopped fine
1 pkg (3 oz) chicken-flavored Ramen noodles
Dressing:
1 pkg Ramen noodle seasoning mix
3 tbl sugar
1/2 cup vegetable oil
3 tbl rice or wine vinegar
1 tsp salt
1/2 tsp pepper
Combine the chicken with seeds, almonds, cabbage, onion, and uncooked noodles which have been broken apart. Add the dressing; toss to blend. Cover. Refrigerate until serviing time. Serve cold. (6 serv)
If you have comments or suggestions, email us at
devriesb@vianet.ca
These country graphics courtesy of:

Webpage designed and maintained by Leilani Devries