Cooking For Fun
Lamb on the Grill



Grilled Lamb Chops
1 large onion, finely chopped
1 fresh thyme sprig, finely chopped
2 cloves garlic, minced
1/4 cup low-sodium soy sauce
1/2 cup olive oil
1/2 cup dry sherry
1/2 teaspoon hot pepper sauce
Salt and Pepper to taste
6 lamb chops, 11/2 in. thick
Combine all the ingredients in a shallow, nonreactive container. Cover and refrigerate overnight. Drain lamb, reserving the marinade. Grill over medium-hot coals, turning the chops after the first 4 minutes. Turn occasionally for even cooking and baste frequently with the reserved marinade. If you care to make an instant sauce, a few minutes before the lamb chops are done dissolve a tablespoon of cornstarch in lukewarm water. Stir the cornstarch into the remaining marinade and heat in a small saucepan just to the boiling point, stirring constantly. Remove from heat when the desired thickness has been achieved. Transfer lamb chops to serving plates and soon over sauce.


Caribbean Lamb
1 butterflied leg of lamb (3 lb)
5 green onions -- minced
4 cloves garlic -- minced
1/4 c orange juice
3 tbsp sodium-reduced soy sauce
1 tbsp vegetable oil
2 tsp ground allspice
2 tsp white vinegar
1/2 tsp dried thyme
1/2 tsp salt
1/2 tsp pepper
1/2 tsp hot pepper sauce
1/4 tsp cinnamon
Fruit Salsa:
1 can (14 oz) crushed pineapple
2 c diced seeded peeled cantalope
3 green onions -- chopped
1/2 c diced sweet red pepper
1 tsp grated lemon rind
1 tbsp lime juice
1/4 tsp hot pepper sauce
pinch salt
Trim fat from lamb. In large shallow glass dish, combine onions, garlic, orange juice, soy sauce, oil, allspice, vinegar, thyme, salt, pepper, hot pepper sauce and cinnamon; add lamb and turn to coat. Cover and marinate in refrigerator for at least 8 hours or for up to 24 hours, turning occasionally. Let stand at room temperature for 30 minutes prior to grilling.
Fruit Salsa: Meanwhile, drain pineapple, reserving 1 tbsp juice. Transfer pineapple and reserved juice to glass bowl along with cantaloupe; stir in onions, red pepper, lime rind and juice, hot pepper sauce and salt. Cover and let stand for 1 hour.
Reserving marinade, place lamb on greased grill over medium-high heat; close lid and cook, turning 4 times and basting with marinade once per side, for 20 to 30 minutes or until meat thermometer registers 140°F for rare, or for 35 to 40 minutes or until 150°F for medium-rare.
Transfer to cutting board and tent with foil; let stand for 10 minutes before carving. Serve with Fruit Salsa.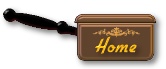 If you have comments or suggestions, email us at
devriesb@vianet.ca
Webpage designed and maintained by Leilani Devries