Cooking For Fun
Beef on the Grill



Aloha Burgers
8 pineapple slices
3/4 cup teriyaki sauce
1 pound ground beef
1 large sweet onion -- sliced
1 tbsp butter or margarine
4 lettuce leaves
4 onion or sesame seed buns, -- split and toasted
4 slices Swiss cheese
4 bacon strips -- cooked
Drain pineapple juice into a small bowl; add teriyaki sauce. Place 3 Tablespoon in a resealable plastic bag. Add pineapple and rotate to coat; set aside. Shape beef into four patties; place in a 8" square baking dish. Pour the remaining teriyaki sauce mixture over patties; marinate for 5-10 minutes, turning once. In a skillet, saute onion in butter until tender, about 5 minutes. Grill or broil burgers until no long pink. Place pineapple on grill or under broiler to heat through. Layer lettuce and onion on bottom of buns. Top with burgers, cheese, pineapple and bacon. Replace tops; serve immediately.


Beef Souvlaki
1 lb sirloin tip or inside round steak -- cut 3/4" thick
1 1/2 tsp dried oregano leaves or Italian seasoning
1 tsp minced garlic
1/4 tsp freshly gound pepper
1 tsp olive oil
1/4 c bottled lemon juice
Sauce:
1/3 c plain yogurt
1/4 tsp dried dill
1 tsp red wine vinegar
1/2 tsp minced garlic
Combine spices and oil and pres firmly onto both surfaces of steak. Cut meat into 1" cubes and toss with lemon juice; let stand 5 minutes. Thread on skewers. Broil or grill on medium heat about 5 minutes, turning once. (Do not overcook). Combine sauce ingredients and serve with Souvlaki.


Chili Spiced Burgers
2 tbsp tomato sauce
2 tbsp chili powder
1 tsp ground cumin
2 tsp dried oregano
1 tbsp vegetable oil
1 tsp garlic powder
1/2 cup grated onion
1 1/2 lbs lean ground beef
Mix ground beef, tomato sauce and spices in large bowl until well blended. Form into four patties, each about 1-inch thick. Heat oil in large skillet over medium-high heat. Sprinkle hamburgers with salt and pepper. Add to skillet and cook to desired doneness, about 5 minutes per side for medium-rare. Serve hamburgers on buns with lettuce, tomatoes and pickles.
If you like, top each burger with a slice of cheddar or Monterey Jack cheese about 2 minutes before they're done.


Pineapple Soy Glazed Steaks
2 beef rib eye steaks -- well-trimmed
Glaze:
1/4 c pineapple juice
1/4 c soy sauce
2 tbsp brown sugar -- packed
1 tsp cornstarch
In 1 cup glass measure, combine glaze ingredients; mix well. Microwave on high for 2 1/2 to 3 minutes or until thickened. Set aside. Place beef steaks on grid over medium, ash-covered coals. Grill, uncovered, 11 to 14 minutes for medium rare to medium doneness, turning steaks occasionally and brushing both sides with some of the glaze during last 5 minutes of grilling. Carve steaks crosswise into thick slices; drizzle with remaining glaze. Serve with grilled pineapple, if desired.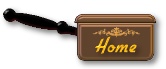 If you have comments or suggestions, email us at
devriesb@vianet.ca
Webpage designed and maintained by Leilani Devries