to the
Cooking For Fun Diner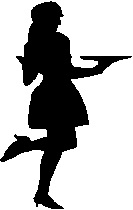 Dinner Menu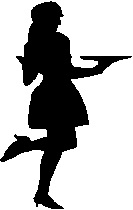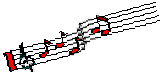 From: Everybody Loves Meatloaf (Harper Perennial, $14.95) by Melanie Barnard:
All the ingredients of meatloaf fall into four categories: protein or "meat," starch, binder and seasonings. Here's how that formula deconstructs:
Meatloaf mix - 1 1/2 pounds of uncooked meat, poultry, seafood or vegetables will serve six people, and the amount fits nicely into a standard loaf pan. A basic mix of 3/4 pound of beef chuck, 6 ounces each of lean ground pork and veal makes a wonderful loaf, the kind in our nostalgix mind's eye.
Starch - That's an awful term. Starch gives meatloaf a soft texture and absorbs juices. It can be fresh bread crumbs, rolled oats, crushed crackers or even rice. Figure about 1 cup starch for the 1-1/2 lbs of "meat."
Binder - An egg or two usually is called for to hold the structure together. Without a binder, it's a flop - you might as well make sloppy Joes.
Seasonings - Here's where it gets interesting. Garlic, onions, parsley,salt and pepper are taken for granted. Then there's soy, Worcestershire and teriyake sauces. Ketchup and its sidekick chili sauce are natural matches for the standard meatloaf for color, moisture and flavor.
Throw all of the above into a big bowl and moosh it with your clean hands until the mixture looks uniform. Plop the mixture into a 9 x 5-inch loaf pan or pat into a mound on a baking sheet with sides. Bake for an hour, and there it be.


Salsbury Steaks
Recipe By: Marina
2 lb lean ground beef
2 ea eggs or 1/2 cup Egg Beaters® 99% Egg Substitute
1/2 pkg dry onion soup mix
1/4 tsp garlic powder
1/4 tsp black pepper
1/4 cup finely chopped onion, optional
1/2 cup fresh fine bread crumbs
1 tbsp vegetable oil
2 tbsp margarine
1/4 lb fresh mushrooms, cleaned & sliced
1 tbsp vegetable oil
1 can cream of mushroom soup
3/4 can water
1 tsp paprika
Combine first 7 ingredients in mixing bowl. Shape into oval patties. Chill in refrigerator at least 30 minutes. Melt 1 tbsp margarine and 1 tbsp oil in a hot, heavy skillet. Saute mushrooms. Remove from skillet; add other tbsp of oil and remaining margarine. Add salsbury steaks, and brown, about 5 minutes. Remove to a platter. Add mushroom soup and water to pan drippings; bring to a boil, stirring until smooth and thick. Add mushrooms and paprika; stir to blend. Return steaks to skillet and simmer until done, about 30 minutes.
Serving Ideas : Mashed potatoes, pasta, rice
CFF Shared by Leilani


Diner Turkey Meatloaf
1 1/2 lb ground turkey
1 onion, finely chope
1 cup quick-cooking rolles oats, uncooked
1/2 cup chopped flat-leaf parsley
1/3 cup milk
1/2 cup bottled chili sauce, divided
2 tsp dried thyme leaves
1 tsp salt
1/2 tsp freshly ground pepper
1 egg
Heat oven to 350 F. In a large mixing bowl, combine the turkey, onion, oats, parsley, milk, 1/4 cup chili sauce, the thyme, salt, pepper, and egg. Pat the mixture into a 9x5-inch loaf pan or shape it into a loaf in a 9x13-inch baking pan, smoothing top. Spread the remaining 1/4 cup chili sauce over the top. Bake until loaf is firm and the top is browned, about 1 hour. Let the meatloaf stand in the pan for 10 minutes before slicing.
One of the old standbys, this was served in many of the roadside diners that catered to truck drivers. It soon became a favorite of just about everybody. The gravy can be served with the Chicken Fried Steak, but it is also very good over mashed potatoes.


Chicken Fried Steak with Cream Gravy
1 each round steak, cut about 1-inch thick (about 2 lbs)
2 large eggs
2 tbsp ilk
1/4 cup unbleached flour
Salt and freshly ground pepper, to taste
2 tbsp butter or margarine
1 recipe cream gravy (see below)
Cut the steak crosswise into 4 serving pieces. Place one piece between two sheets of plastic wrap then using a rolling pin or meat pounder, pound to a 1/4-inch thickness. Repeat with the remaining pieces. In a pie plate, beat the milk and eggs together, in a second pie plate combine the flour and the seasonings together. Dip each piece of steak first into the egg mixture then into the flour mixture, coating completely. Shake gently to remove the excess flour mixture. Melt the butter in a 12-inch skillet, using medium heat, fry the steaks, two at a time, about 5 minutes on a side or until golden brown on each side. Serve with biscuits and cream gravy. Serves 4.
Cream Gravy
2 tbsp butter or regular margarine
2 tbsp unbleached flour
1 cup milk
1/2 tsp instant chicken bouillon
1/2 tsp freshly ground black pepper
Melt the butter in a small saucepan over medium-low heat and stir in the flour until well blended and smooth. Gradually add the milk, bouillon, and pepper and bring to a boil, stirring constantly. Reduce the heat to low and cook 3 to 5 minutes, stirring frequently, until the mixture is smooth and slightly thickened. Makes 1 cup.


If you have comments, suggestions or recipes
email us at devriesb@vianet.ca
Webpage designed and maintained by Leilani Devries
Editor:Bev Schneiderman