to the
Cooking For Fun Diner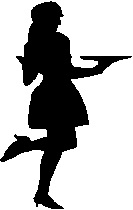 Breakfast Menu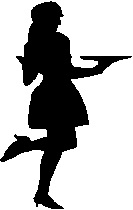 Open 24/7
We will be including recipes of old favorites from the height of diner popularity, and also from new diner cuisine.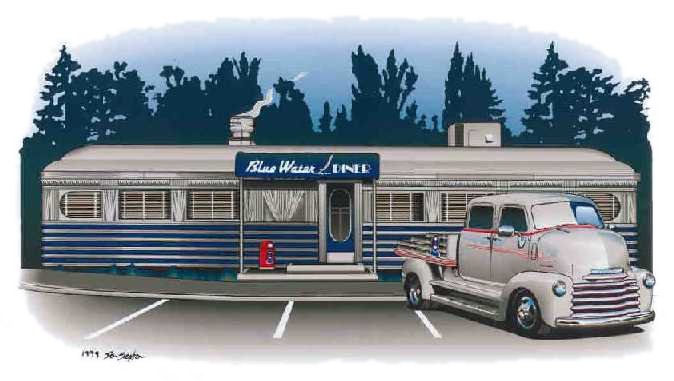 EGGS
Poached Eggs: The fresher the egg, the better they poach!
Poached Eggs
1 tbsp vinegar
Pinch of salt
4 eggs
In a medium saute pan or skillet, combine the vinegar, salt with water to a depth of 2-inches. Bring to a boil, then reduce heat to a low simmer. Crack the eggs one at a time onto a saucer and slide each into the water. Cook 2 minutes for soft yolks and 3 minutes for firmer yolks. Using a slotted spoon carefully remove the eggs in the order in which they were added. Makes 2 servings.

OMELETS
Cheese Omelet
2 eggs
1/4 tsp salt
1 tbsp butter
3 tbsp grated cheddar cheese
In a small bowl, lightly beat the eggs and salt together. In a 7-inch omelette pan, melt the butter over medium heat until it sizzles. Pour the eggs into the pan and cook until the eggs are lightly browned on the bottom, tilting the pan and pushing back the edge of the omelet with a spoon to let the uncooked egg run off into the sides. Sprinkle the cheese over the omelet, fold the omelet in half, and serve immediately. Makes 1 omelet.
Western Omelet
2 tbsp butter or margarine
6 eggs
6 tbsp each of finely chopped onion and green pepper
3/4 cup milk
3/4 cup chopped cooked ham
3/4 tsp salt
Dash of pepper
In a skillet melt butter. Beat eggs and stir in remaining ingredients. Pour mixture all at once into the skillet. Cook, stirring mixture to cook evenly. Serve while still moist and creamy. Makes 4 to 6 servings.
Spanish Omelet
Sauce:
2 tbsp olive oil
1 yellow onion, thinly sliced
1/2 green pepper, seeded, deribbed and cut lengthwise into narrow strips
1 clove garlic, minced
2 cups tomato sauce (canned is fine)
Salt and fresh ground pepper
Omelets:
12 eggs
Pinch of salt, pinch of pepper
6 tbsp unsalted butter
1-1/4 cups shredded cheddar cheese
To Make Sauce: In a large nonstick frypan over medium heat, warm the olive oil. Add the onion and saute, stirring occasionally, until it just begins to soften, 3-4 minutes. Add the green pepper and continue to saute stirring occasionally, until the green pepper begins to soften, about 3-4 minutes. Add the garlic and saute for 1 minute longer. Then add the tomato sauce and simmer stirring occasionally until slightly reduced, about 3 minutes. Season to taste with salt and pepper, cover to keep warm.
To Make The Omelets: In a bowl, whisk together the eggs, salt and pepper until well blended. In an 8-inch nonstick fry pan, or omelet pan over medium heat, melt 1 tbsp of the butter. When the foam subsides, add one-sixth of the beaten egg and immediately stir the center with the flat side of a fork. Then with the tines of the fork, lift the edges of the omelet and tilt the pan so that any uncooked egg runs underneath the cooked portion. Vigorously slide the pan back and forth over the burner until the omelet moves freely.
When the omelet is lightly cooked and still creamy in the center, mound one-sixth of the cheese over half the omelet. Using a spatula, lift and fold the uncovered half over the filling. Slide the omelet onto a warmed plate and spoon some of the sauce over the top. Cover lightly with aluminum foil and keep warm while you cook the remaining omelets. Serves 6.

PANCAKES
Pancakes
1 cup all purpose flour
3 tsp baking powder
1 tbsp sugar
1/2 tsp salt
1 egg lightly beaten
1 cup milk
2 tbsp vegetable oil or melted butter
In a medium bowl, combine the flour, baking powder, sugar and salt and mix to blend. In a small bowl, beat together the egg, milk and oil or melted butter. Stir the milk mixture into the flour mixture just until combined; the batter may still be lumpy. Let the batter stand for 10 minutes.
Heat a griddle or a large skillet over medium heat and oil it lightly. Drop the batter by heaping tablespoons and cook until bubble appears evenly on the surface, about 2 minutes. Turn and cook for 1 or 2 minutes more on the other side or until they are golden. Makes eight 4 inch pancakes.
Sour Cream Pancakes
3/4 cup all purpose flour
1/4 cup quick cooking rolled oats
1 tbsp sugar
1 tsp baking powder
1/2 tsp baking soda
1/2 tsp ground cinnamon
1/4 tsp salt
1/2 cup buttermilk
1 cup sour cream
1 egg
2 tbsp unsalted butter, melted
Vegetable oil
Blueberry or other fruits, warmed
Fresh or frozen fruits or fruit preserves (optional)
In a large bowl, stir together the flour, rolled oats, sugar, baking powder, baking soda, cinnamon and salt, mixing well. In a large measuring cup, combine the buttermilk, sour cream, egg and melted butter. Using a fork beat until well blended. Add the buttermilk mixture to the flour mixture and mix well with a fork or whisk to form a smooth batter.
Place a griddle or a large nonstick frying pan over medium-high heat. When a drop of water sprinkled on the top skitters on the surface, lightly grease the surface with vegetable oil. For each pancake, pour about 1/4 cup of the batter onto the hot surface. Do not crowd the pancakes. Cook until little bubbles appear on the tops of the pancakes, 3-5 minutes. Using a spatula, turn them and cook on the second side until both sides are equally browned, 1-2 minutes longer. Transfer the pancakes to a platter and keep warm until all the batter is used.
To serve, drizzle the pancakes with warmed fruit syrup, garnish with fruit if desired and serve at once. Makes about sixteen 4-inch pancakes. Serves 4.
Blueberry Whole-Wheat Pancakes
2 cups buttermilk
3 large eggs
3/4 stick (6 tbsp) unsalted butter, melted and cooled, plus additional melted butter for brushing the
griddle
3/4 cup all-purpose flour
1/2 cup whole-wheat flour
1/4 cup wheat germ
1 tsp salt
2 tsp double-acting baking powder
1-1/2 tsp baking soda
3 tbsp sugar
2 cups picked over blueberries
Blueberry syrup or maple syrup: as an accompaniment
6 cups picked over blueberries
3 cups sugar
Zest of 1 lemon, removed in strips with a vegetable peeler
1/4 cup fresh lemon juice, or to taste
To make pancakes: In a bowl whisk together the buttermilk, the eggs, and 6 tbsp of the butter. In a large bowl whisk together the flours, wheat germ, salt, baking powder, baking soda, and sugar; add the buttermilk mixture, and whisk the batter until it is just combined. Heat griddle over moderately high heat until it is hot enough to make drops of water scatter over its surface and brush it with some of the additional melted butter.
Working in batches, pour the batter onto the griddle by 1/3-cup measures; sprinkle each pancake with about 2 tablespoons of the blueberries, and cook the pancakes for 2 minutes on each side, or until they are golden. Transfer the pancakes as they are cooked to a heatproof platter and keep them warm in a preheated 200 F oven. Serve the pancakes with the syrup. Makes about sixteen 5-inch pancakes.
To make blueberry or maple syrup: In a large saucepan combine the blueberries and 1-1/2 cups water, bring the mixture to a boil, and simmer, covered, for 10 minutes. Puree the mixture in batches in a blender or food processor and force it through a fine sieve into a bowl, discarding the solids. In the pan, cleaned, combine the sugar, the zest, and 3 cups water, bring the mixture to a boil, stirring until the sugar is dissolved, and boil, uncovered, until a candy thermometer registers 200 F.
Discard the zest, add the blueberry mixture, and boil the syrup, stirring, for 1 minute. Let the syrup cool, skim off any froth, and stir in the lemon juice. Pour the syrup into glass jars with tight-fitting lids. The syrup keeps, covered and chilled, for 3 months. Serve the syrup warm over pancakes or ice cream. Makes about 6 cups.
Giant Sunday Pancakes: Vary these pancakes, if desired, by sprinkling one-fourth cup blueberries, raisins or even chocolate chips over each pancake before turning it to finish cooking.
Giant Sunday Pancakes
3 large eggs
1/2 cup sugar
6 tbsp (3/4 stick) butter, melted
1-1/2 cups all purpose flour
1 cup milk
1 tbsp baking powder
1/4 tsp salt
Butter
Warm maple syrup
Preheat oven to 250 F. Whisk eggs, sugar and melted butter in medium bowl until blended. Add flour alternately with milk in 3 additions, whisking to blend after each addition. Whisk in baking powder and salt.
Melt enough butter in heavy medium nonstick skillet over medium heat just to coat bottom. Ladle scant 3/4 cup batter into skillet, rotating skillet to spread batter to about 6-inch-diameter round. Cook pancake until bubbles form on surface and bottom is brown, about 1 minute. Turn over pancake and cook until bottom is brown and pancake is cooked through, about 1 minute. Transfer to large baking sheet. Place in oven to keep warm. Repeat with remaining batter to form 5 more pancakes, adding more butter to skillet as necessary. Serve with syrup. Makes 6.

WAFFLES
Waffles were first prepared in France and Belgium during the Middle Ages. They were not introduced to America until centuries later when Thomas Jefferson brought the first waffle iron home from France.
Basic Waffles
1 1/2 cups all purpose flour
2 tsp baking powder
1/2 tsp baking soda
1/4 tsp salt
1 tbsp sugar
3 eggs, separated
3/4 cup sour cream
3/4 cup milk or buttermilk
1/4 cup vegetable shortening, melted
1/4 cup butter, melted
Sift dry ingredients together. Beat egg yolks, sour cream and milk. add to dry ingredients, alternating with the shortening and butter cooled to room temperature. Stir until batter is smooth and free from lumps. Stiffly beat the egg whites and fold into waffle mixture. Cook according to the waffle manufacturers directions. Makes 4 waffles.
Variations to add:
1/2 cup ground ham to batter before cooking
1/2 cup of any berries, chopped nuts or raisins to batter before cooking
1/2 cup grated parmesan or shredded cheddar cheese to batter before cooking
Buttermilk and Banana Waffles
1 cup all purpose flour
1 tbsp sugar
1 tsp baking powder
1/2 tsp baking soda
1/2 tsp ground cinnamon
1/4 tsp salt
1 1/4 cups buttermilk
1 egg
2 tbsp unsalted butter, melted
2 ripe bananas, peeled and sliced
Vegetable oil
Maple syrup, warmed
In a large bowl stir together the flour, sugar, baking powder, baking soda, cinnamon, and salt, mixing well.
In a large measuring cup, combine the buttermilk, egg and melted butter and whisk until blended. Place half of the sliced bananas in a small bowl and mash coarsely; do not worry if the mixture is a little lumpy. Add the mashed banana to the buttermilk mixture, then stir into the flour mixture. Using a fork or whisk, mix until the batter is smooth.
Preheat waffle iron to manufacturer's directions. Using a paper towel or pastry brush, lightly grease the waffle iron with vegetable oil. Following the manufacturers directions, ladle batter sufficient for 1 waffle into the iron, spreading it evenly. Close the waffle iron and cook until the iron opens easily (no peeking for the first 2 minutes) transfer the waffle to a platter and keep warm while you cook the remaining batter.
Serve the waffles garnished with the remaining banana slices and drizzled with the warmed maple syrup. Makes 7 waffles

ADDING MEAT
Corned Beef Hash with Poached Eggs: You may make the hash the day before and refrigerate and reheat before serving time.
Corned Beef Hash with Poached Eggs
3 large russet potatoes, peeled and cut into 1/2 inch dice (6 cups)
3 cups diced cooked corned beef brisket
4 cloves garlic, minced
1 tbsp red wine vinegar
1/2 cup heavy cream
Freshly ground pepper to taste
Poached eggs (see egg recipes)
In a large pot of boiling salted water, cook the potatoes until tender, 5 to 10 minutes; drain. In a large bowl, combine the potatoes, corned beef, garlic, vinegar and cream and stir until thoroughly combined.
In a large saute pan or skillet, cook the hash over medium heat, stirring frequently until the cream bubbles and reduces by half. Season the hash with pepper and let it cool completely.
On a griddle or a lightly oiled skillet over medium heat, fry the hash for 5 minutes on each side, or until a crust forms. Cut the hash into wedges, top with poached or fried eggs, and serve immediately. Makes 8 servings.


If you have comments, suggestions or recipes
email us at devriesb@vianet.ca
Webpage designed and maintained by Leilani Devries
Editor:Bev Schneiderman