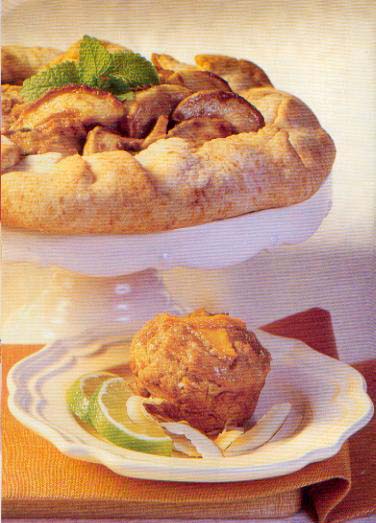 Granny Smith Apple Pie with Cheddar Crust
Crust:
2 cups Five Roses All-Purpose Flour
1/2 tsp salt
1/2 cup cold butter, cubed
1 cup shredded aged Canadian cheddar cheese
1/2 cup milk
Filling:
1/2 cup lightly packed brown sugar
2 tbsp Five Roses All-Purpose Flour
1/2 tsp grated lemon rind
1/2 tsp each ground cinnamon and ginger
4 large Granny Smith apples, peeled and thickly sliced
2 tbsp shredded aged Canadian cheddar cheese, optional
Crust: In food processor, combine flour and salt. Add butter; pulse until mixture resembles coarse crumbs. Add cheese. With machine running, drizzle in milk, processing just until dough comes together. Press dough into all. Wrap in plastic; let rest in refrigerator for 30 minutes.
Filling: In large bowl, mix together brown sugar, flour, lemon rind, cinnamon and ginger. Add apples and toss to coat; set aside.
Between two sheets of waxed paper, roll out dough into 13-inch circle. Transfer to large baking sheet. Spoon apple mixture into center. Fold sides up over filling, leaving filling exposed in center. Fold edge of pastry over to make finished edge.
Bake on lower rack in 425 F oven for 20 minutes; reduce heat to 350 F and bake for 30 minutes or until fruit is tender and crust in golden. Remove from oven and sprinkle with cheese, if using. Let cool before serving. Makes 8 servings.

Mango Coconut Muffins
@@@@@
Mango Coconut Muffins
2 3/4 cups Five Roses All Purpose Flour
1 tsp baking soda
1/2 tsp salt
3/4 cup butter, softened
1 cup packed brown sugar
4 tbsp Omega Pro Liquid Eggs (or 1 egg)
1 cup buttermilk
1 tsp vanilla
1 cup chopped mango or peaches
1/2 cup sweetened shredded coconut
1 tsp finely grated lime rind, optional
2 tbsp liquid honey or corn syrup
In large bowl, mix together flour, baking soda and salt. In separate bowl, beat together butter and sugar. Beat in egg, buttermilk and vanilla. Pour over flour mixture; add mango, coconut and lime rind, if using. Stir just until dry ingredients are moistened.
Spoon into buttered or paper-lined muffin cups, filling 3/4 full. Bake in 350 F oven for 30 to 35 minutes or until firm to touch. Brush tops with honey to glaze. Remove from pan. Let cool on rack.
Tip: For a nice touch, top each muffin with a thin slice of mango before baking; brush mango lightly with honey. Makes 12 large muffins.