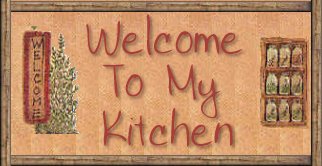 Home of Karen's Recipes

The Sausage Favorite is a regional recipe around here and we LOVE it. The Dilled Chicken Pasta Salad is GREAT and I'm often requested to bring it to dinner's and such.
* Exported from MasterCook II *
Sausage Favorite
Recipe By : Deana Grider/teacher's wife/Jamestown Elem.School
Serving Size : 8 Preparation Time :0:45
Categories :
Amount Measure Ingredient -- Preparation Method
-------- ------------ --------------------------------
1 pound sausage
1 small onion -- chopped
1 small pkg macaroni
1 can cream of mushroom soup
1 can cream of celery soup
2/3 cup milk
1/2 pound velveeta cheese
3 cups corn flake crumbs
2 tablespoons butter
Brown sausage and onion, drain. Place into bottom of greased casserole dish. Cook macaroni according to package directions, drain. Place macaroni over sausage mixture in casserole dish. In medium saucepan, mix soups, milk and velveeta cheese. Heat on low until cheese is melted. Pour cheese sauce over macaroni and sausage. Mix corn flake crumbs with butter and sprinkle over cheese sauce. Bake uncovered at 350 degrees for 30 minutes.
Source: Grade A Recipes - A collection of recipes by students, staff, parents and friends of Jamestown Elementary School in Jamestown, Kentucky
- - - - - - - - - - - - - - - - - -

* Exported from MasterCook II *
Dilled Chicken Pasta Salad
Recipe By : Kimberly Speta in Aug/Sept 96 "Taste of Home"
Serving Size : 12 Preparation Time :0:30
Categories :
Amount Measure Ingredient -- Preparation Method
-------- ------------ --------------------------------
16 Oz Spiral Macaroni -- cooked and drained
12 Oz Can Chicken, Canned White Meat -- drained and flaked
Or
2 C Chicken -- cubed, cooked
1 C Chopped Celery
1/2 C Chopped Onion
1 Pkg Frozen Peas -- thawed
Dressing
1 env Ranch Salad Dressing -- mix
16 oz Sour Cream
1 C Mayonnaise
1 C Milk
3 tbsp Fresh Dill -- minced
Or
1 tbsp Dill Weed
In a large bowl, combine the first five ingredients; mix well. Combine dressing ingredients; whisk until smooth. Pour over salad; toss to coat. Cover and refrigerate for at least 2 hours. Yield: 10-12 servings.
NOTE: I used a 12 ounce can of chunked white chicken in water, drained. The results are quicker, not as messy and tastes great. Could also use a like amount of crabmeat instead of chicken.
- - - - - - - - - - - - - - - - - -



If you have comments or suggestions, email us at
devriesb@vianet.ca
These country graphics courtesy of:

Webpage designed and maintained by Leilani Devries