Cooking for Fun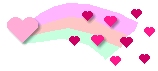 Valentine Activities









Valentine Man
Valentine Pocket
Valentine Box
Heart Placemat
Heart Sponge Paint
Valentine Tree
Tissue Paper Heart Collage
Heart Butterfly
Chick Heart
Heart Mobile
Special Valentine Card
Valentine Baking
Happy Valentine's Day Song

Cut out a large heart for the body, a medium heart for the head and 4 small hearts for the feet and hands. (It looks nice to vary the color, maybe the body and head red and the a feet and hands pink.)

Have your little one glue the large heart in the middle, the medium on top of that. Now draw lines for arms and legs with a marker (or use fuzzy wuzzy wire or yarn) and glue the feet and hands. Decorate the face.

Another version of this valentine man is a 3 D one. Do everything the same with the hearts but instead of just drawing the arms and legs, take a 1 inch strip of paper and fold it acordian style to connect them. I am sure you have seen decoratations like this - especially at Halloween.
If you are going to exchange cards with other children in your neigborhood, family etc. Make a little pocket for them to collect their cards. Either take two regular size pieces of contruction paper or one extra large one. Cut out a heart shape (using the whole page) and staple it along all edges except the top. (If you are using the extra large paper, just fold over at the bottom.) You probably don't want this to be a real "pointy" heart base, I have it more tapered to a flat base.

Have your child decorate it with markers, other hearts, yarn, sequins, noodles, glitter (if you dare) etc.

Here is a little poem you can write on it if you want to be cute:
Here is my Pocket
I have something to hide
It's a valentine for you
Just peek inside!
This is along the same idea as the pocket, except sturdier. Get a shoe box, cover with constuction paper and have the child decorate. It is really neat to add FELT hearts on it! I have also seen people buy those little white dollies to add some "frills" You could also use stickers too!
For Valentines day have your child decorate a placemat for each member of the family. If you want to be real creative have your child glue down small hearts along the top middle of the paper. Then you go and make them into a "valentine bouquet" by connecting the hearts with green stems and adding a vase. You could also do this with fingerprints (press the finger one way then overlap and press it the other way).
Take a thin sponge and cut out a heart shape (you may be able to even buy one already cut). If you don't have a sponge, you could use a potato! Let your child dip the sponge in red, pink, white paint and make a heart collage! If you are not too much into paint, you can also do this with just plain water and a chalk board or black construction paper-doesn't last too long but it is neat while you are doing it!
This is more of a mommy project for you kids to enjoy. Take a tin can and cover it. Anchor a twig in sand and glue tissue paper/construction paper hearts to the branches. To add a neat twist, you could write on each heart someone that your child loves (grandparents, friends, teachers, babysitters) You could even make this a "tradition" and add something new to the tree as the holiday changes.
Cut out hearts with tissue paper. Mix up a glue/water mixture to be the texture of thin paint. Have you child "paint" the hearts down. The glue will stick them down and they give a neat affect. If you don't want to use the glue in the water, you can just "paint" with the water and then lift up the tissue paper and you still get the heart shape where the tissue paper bleed onto the paper.
Take two large equal size hearts and a small heart. The small heart is the butterflies body. Add the large hearts - points inward - to make the wings. Add antenaes. Decorate.
Take one heart - add a beak on the outside of the upper right part of the heart and an eye in the hump part. Put the feet off the point and a small little heart in the other hump part for a wing. It sounds really strange, but I have seen a picture of this and it looks like a chick!!

Heart Mobile

Take a wire hanger and hang hearts of various shapes and sizes by using yarn. Your child can decorate the hearts.

Special Valentine Card

Make a heart shape card and put a hand print of your child on the outside and on this poem on the inside:
Sometimes you get discouraged
Because I am so small
And always leave my fingerprints
On furniture and wall.
But here's a little handprint
That won't be on the door
To wish you "Happy Valentine's Day"
For this and many more.
Make cupcakes and decorate with heart shaped spinkles, or red/pink icing

Take a round cake, cut it in half. Turn it so the "cut" side is outward on both sides. Trim the top and you have a real heart shaped cake! Frost and Decorate.

Make Valentine Pancakes -- a real crowd pleaser for ANY season. Mix up your pancake mix and instead of just making circle ones, take a spoon and pour it into a heart shape. My mom used to make them in a shape for every season - it was really neat!

Along the baking ideas, you could also get a cookie cutter and make biscuits, or cookies in the shape of hearts or bears! Let the little one decorate the cookies with sprinkles or colored sugar before baking! I just saw that Pillsbury also has some "slice" heart shaped cookies. Very simple to make, and you don't have to make them ALL at once -- very good for Mom's
diet! :)

Use a heart shaped cookie cutter for further fun!
Happy Valentine's Day to you,
Happy Valentine's Day to you,
Happy Valentine's Day dear friends,
Happy Valentine's Day to you!
Valentine's Day comes once a year
L-O-V-E
Brings us cards, candy and cheer
L-O-V-E
CFF Shared by Lesa










If you have comments or suggestions, email us at
devriesb@vianet.ca

Webpage designed and maintained by Leilani Devries