Cooking For Fun
Pork on the Grill



Calypso Pork Chops
Serving Size: 6
6 (4 oz) boneless pork loin chops
1 cup chicken broth
1/2 cup orange juice
2 tbsp dark rum, optional
2 tbsp lime juice
2 tbsp brown sugar
1 clove garlic, minced
1/2 tsp salt
1/2 tsp ground ginger
1/4 tsp ground nutmeg
1/4 tsp ground cloves
Combine all ingredients in a ziplock bag; seal bag and refrigerate for 4-24 hours. Remove chops from marinade; discarding leftover marinade. Grill chops quickly over indirect heat in covered grill about 10-12 minutes, turning once to brown both sides. Source: National Pork Producers Council.
CFF Shared by Sandy


KC-Style Baby Back Ribs
Serves 8
4 Slabs Skinned Baby Back Ribs (about 1 1/2 to 2 lbs. EACH)
1 cup Granulated Sugar
1/4 cup Seasoned Salt (Lawry's is recommended)
1/4 cup Garlic Salt
1/4 cup Celery Salt
1/4 cup Onion Salt
1/2 cup Paprika
3 Tbs. Chili Powder
2 Tbs. Freshly Ground Black Pepper
1/2 tsp. Cayenne Pepper
1 Tbs. Lemon Pepper
2 Tbs. Dried Sage
1 tsp. Dried Mustard Powder
1/2 tsp. Dried Thyme
Break out the paper towels and rib bibs –– we're making Kansas City-Style Baby Back Ribs tonight!
Otherwise known as loin ribs, baby back pork ribs are more expensive than other styles of pork or beef ribs. However, the price is well worth the money; and don't hesitate to work with the butcher at your local market to get the perfect size or shape of ribs to fit your grill.
Prepare the dry rub by sifting together the sugar, seasoned salt, garlic, celery, and onion salts, paprika, chili powder, black, cayenne, and lemon peppers, sage, mustard, and thyme in a large glass mixing bowl. Store in an airtight container, preferably a glass jar, and utilize as a dry rub for
today's recipe and other barbecued meals, too.
Tip: Remember, the "dry rub" mixture is not actually rubbed into the meat. You simply sprinkle it on the cut of meat you'll be preparing on the grill or in your smoker.
Prepare your grill to maintain a temperature of 230 F to 250 F degrees while cooking the ribs. You may elect to utilize oak, hickory, or apple-flavored wood chips. If you do, remember to soak the bag of wood chips in a bucket of water next to your grill and add them as you grill the baby back ribs. This
water-soaked method helps release the full essence of the smoky flavor from the wood chips in the steam and smoke created on your grill.
Blot ribs with a paper towel to remove excess moisture, then sprinkle both sides of the ribs with the dry rub. Arrange slabs on the grill and prepare to cook the ribs for 4 to 6 hours, adding more coals as necessary to maintain the heat.
Halfway through cooking, turn the ribs. The ribs are done when you can gently pull them apart with safely gloved hands. Transfer ribs to the cutting board and allow them to cool slightly before cutting and serving. Serve with your favorite warmed barbecue sauce on the side, or return the cut ribs to the grill and bathe them in your favorite barbecue sauce as you grill for about 10 minutes more, being sure to turn them once, then serve.
Tips: You can reduce your grilling time by precooking or parboiling the baby back ribs. Either parboil them in a large stock pot until they are gray, or bake in a moderate 350-F degree oven until lightly
browned. Apply dry rub as directed. You may also want to mix up and keep ready keep a light basting liquid of 1 cup water, 1/2 cup olive oil, and 3 tablespoons dry rub, just in case the ribs start drying out on the grill. Total cooking time will be about 1 or 2 hours, depending on the thickness of the ribs.
Spareribs are a little less pricey and may also be used. Because they come from the underbelly of the pig, situated right next to the bacon, they don't contain as much meat as baby back ribs. Spareribs are also full of fat and small gristle bones, which end up making the meat juicier on the grill. You may substitute 2 slabs of skinned spareribs for each 3 to 4-lb. portion of baby back ribs, and prepare today's recipe as directed. Grilling time varies if you elect not to parboil or precook the spareribs.


Grilled Pork Steaks
Serves 4
4 Pork Steaks
1/2 can Beer (or substitute Non-Alcoholic Beer)
2 Tbs. Butter or Margarine
3 Bay Leaves
Salt and White Pepper to taste
2 cloves Garlic, crushed
1/2 cup Barbecue Sauce (Prepared -- or use your favorite recipe)
Trim away all but a small amount of fat from the edges of the pork steaks and score the edges in several places, to prevent the meat from curling.
Pour half a can of beer into a sauce pan over medium heat. Add butter, bay leaves, salt, pepper, and garlic, and allow the mixture to simmer about 20 minutes. Place in a container for easy basting on the grill, and grab your basting brush.
Grill steaks for 15 to 20 minutes over a medium-high heat grilling temperature, turning frequently and basting with the sauce at each turn. Immediately before removing from the grill, brush steaks with barbecue sauce on both sides. Serve right away.
Kitchen Staff Tip: Grilled Pork Steaks go well with grilled Corn-in-the-Shuck. To prepare, carefully separate and pull down the husks on four ears of fresh corn and remove the silk. Rub the kernels generously with butter, salt, and pepper as desired. Pull the husks back into place, smoothing them as you go. Moisten husks with water and roll tinfoil around each ear of corn. Place the ears on the edges of the grill (leaving the center of the grill for the main course). Grill for 20 to 25 minutes, turning occasionally. Remove tinfoil and serve in the shuck.


Aromatic Pork Chops
4 pork loin chops
1 tsp grated orange rind
1/3 c orange juice
2 tsp minced gingerroot
1 clove garlic -- minced
1 green onion -- finely chopped
pinch cinnamon
salt and pepper
Trim excess fat from chops; slash edges at 1" intervals. Arrange in single layer in shallow dish.
In small bowl, combine orange rind, orange juice, ginger, garlic, green onion and cinnamon; pour over chops, turning to coat well.
Cover chops and marinate at room temperature for 30 minutes. Or marinate in refrigerator for up to 24 hours; let chops stand at room temperature for 30 minutes.
Reserving marinade, place chops on greased grill over medium-high heat; cover and cook, basting occasionally with marinade, for about 5 minutes per side or until grill-marked and just a hint of pink remains inside. Season with salt and pepper to taste.
NOTES: Not overcooking is the key to grilling today's lean pork. Test with the tip of a pointed knife and remove chops from the grill as soon as they are juicy with just ahint of pink inside. To allow juices to spread evenly through the chops, cover them with foil for 3 minutes before serving.
Test Kitchen Tip: Thick pork chops will be juicier on the grill than thin ones. However, if your grocery store only has 1/2" thick pork chops available, decrease the cooking time by about 1 minute per side.


Yucatecan Grilled Pork
2 cups lime juice
12 cloves garlic -- minced
1 tablespoon coarse salt
4 pounds boneless pork shoulder -- thinly sliced
thinly sliced cucumbers -- for garnish
tomato salsa
Whisk together the lime juice, garlic and salt in a large pan or bowl. Add pork slices and toss to coat evenly. Cover and refrigerate 2 to 8 hours. Preheat the grill or broiler. Grill or broil the pork over
medium flames about 15 minutes, turning frequently to avoid scorching. Serve with warm tortillas, cucumbers and tomato salsa.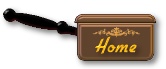 If you have comments or suggestions, email us at
devriesb@vianet.ca
Webpage designed and maintained by Leilani Devries