COOKING FOR FUN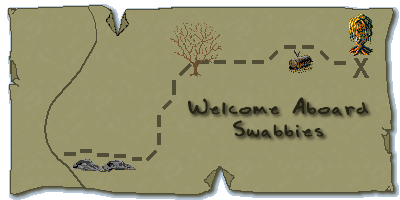 Contest Page
We're off on a Treasure Hunt!
Our current contest is over.
The winners were:
1. Debbie
2. Lauri
3. Angie
Check back soon for another contest!
Congrats to the winners!


Every month or so, we have contests on CFF.
These contests are open only to subscribers
of the Cooking For Fun e-mail list.
If you are interested in joining our list, send an
e-mail to: devriesb@vianet.ca
If you are already subscribed, have fun!

Our contests are generously sponsored by:
Be sure to stop by and visit Kathie &
the crew at The Kitchen Emporium!
The Cooking For Fun Prize Page at
The Kitchen Emporium is located here:
Now for this month's contest!

Aye, Mateys! It's time to stop swabbin' the decks and trimmin' the sails! Raise the anchor! We're off on a treasure hunt!

Ho! Ho! Ho! No rum for you! You swabbies will need all your wits to find the buried treasure hidden throughout the site.

I've hidden 5 pirate flags throughout the CFF web site. You lazy swabbies have to locate all of them and send me the URL of each. Instead of making you walk the plank (as you truly deserve!) I'll enter your name into a special drawing for one of 3 prizes from the Treasure Chest at The Kitchen Emporium!

The one below is NOT part of the 5 you need to find.

When you locate all five flags, send the URL's of their location, along with your name to devriesb@ican.net.

Three winners will be chosen from all correct entries on October 1, 1999 at 8 am. You have until that time to submit your entry and if you don't belong to CFF, now is a good time to join!

Now get busy and enter!

Consider your options, Matey!
It's the contest, or the plank for you!

Pirate Velvet Glove

Graphics Courtesy of Tropical Nights