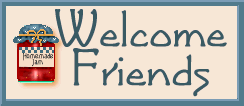 Cooking For Fun's Canning
Recipes (Part 2)




Watermelon Pickles (#2)
4 quarts prepared watermelon rind
Salt
Pickling syrup (recipe below)
1 lemon sliced thin
Trim off pink on the inside and dark green on the outside of the watermelon rind. Cut the light green/white rind into bite size chunks. Cover with cold salt water (1/4 cup salt to 6 cups water). Soak overnight. Drain the rind, cover with fresh cold water, bring to a boil and boil till tender. Drain rind. Add to pickling syrup, add lemon and simmer gently about 1 hour or until rind turns clear. Pack pickle with lots of juice, in clean, hot, sterilized jars (pint size, wide mouth are best) and seal.
Pickling syrup:
2 quarts cider vinegar
2 cups water
4 lbs (8 cups) sugar
2 tbsp whole cloves
2 tbsp whole allspice
1 piece ginger root (preferably fresh)
3 tbsp cracked cinnamon sticks
Mix vinegar, water and sugar in large preserving kettle (pressure cooker or biggest pot you've got). Add spices and boil rapidly for 5 minutes. Now you're ready to add the prepared rind and follow directions above.
CFF Shared by Sandy


Cranberry Spiced Jam
8 cups cranberries
1 cup each water and vinegar
6 cups sugar
1 tbsp ground cinnamon
1/2 tbsp ground cloves
1/2 tbsp ground allspice
Mash cranberries lightly; add vinegar and water and cook until soft. Put through strainer; add sugar and spices. Cook 8 minutes, stirring often. Pour into clean jars and seal.
CFF Shared by Audree


Banana Jam
8 ripe bananas
3 lemons medium size
3 cups granulated sugar
3 cups water
A whole piece of dried or peeled ginger about the size of a large olive
Some cloves
Squeeze the juice from the lemons and slice the rind into paper-thin strips. Boil the sugar and water about 10 minutes, then add the lemon juice and rind, the bananas carefully mashed, the ginger and few cloves. Cook this
slowly for 1/2 to 3/4 of an hour. Stir carefully so that it will not scorch. It will become a pale-yellow mush, and does not need to be tested for proper consistency. Take out the ginger before you put it into the jars. Makes about 7 (8-oz) glasses. My daughter made this, she says it does not make 7 jars, it only makes 2-3.
CFF Shared by Audree


Carrot Jam
5 lbs carrots
6 cups sugar
Juice from 6 lemons
Wash, pare and grate carrots. Add lemon juice and sugar; slowly cook until thick. Pour into clean jars and seal.
CFF Shared by Audree


Grape Jelly
4 pounds red grapes, underripe
1 large apple
1/2 cup water
3 cups sugar (approximately)
Wash grapes and place in a large kettle. Mash slightly. Wash apple and cut into slices, but do not core or seed. Add apple to grapes, with 1/2 cup water. Quickly bring to a boil and boil until grapes soften, about ten minutes. Drain through a damp jelly bag, without pressing pulp. Refrigerate juice overnight. Strain again to remove tartrate crystals. Measure juice into a large kettle. For every cup of juice, add 3/4 cup sugar (there should be about four cups of juice). Bring to a boil over medium-high heat and cook until mixture reaches jelly stage, 220 F on a candy thermometer. Skim foam off surface and pour jelly at once into sterilized, half-pint glasses. Seal with paraffin.
Notes: Concord grapes make the best jelly, and should be slightly underripe. Wash well, but they need not be seeded.
CFF Shared by Sandy


Webpage designed by: Leilani Devries.
Editor: Bev Schneiderman