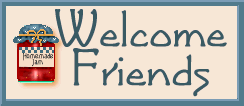 Cooking For Fun's Canning
Recipes




Pickled Watermelon Rind
Recipe By: Elizabeth Powell
1 large watermelon rind
1 quart water
1/4 cup kosher salt
1 quart cider vinegar
8 cups sugar
8 whole cinnamon sticks, broken up
1 tbsp whole cloves
1 tbsp allspice berries
Peel and remove all green and pink portions from rind. Cut into 1 inch cubes and soak in salt water overnight. Drain and cover with fresh water. Cook until almost tender. Drain. Make a syrup of vinegar and sugar. Tie spices in a cheesecloth bag and add to syrup. Boil 15 minutes, then let stand 15 minutes. Remove spice bag. Add drained watermelon rind. Cook until clear. Pack into sterile jars and seal according to manufacturer's instructions. Makes 6 pints, about 96 two-tablespoon servings.
CFF Shared by Sandy


Peach Pickles
4 cups water
19 or 20 small peaches 6 pounds
1 quart white vinegar 5 percent acidity
6 cups sugar
1 tbsp hole cloves
4 (2-1/2 inch) cinnamon sticks
Bring 4 cups water to a boil in a Dutch oven. Remove from heat. Add peaches and let stand 4 to 6 minutes. Drain peaches, cool and peel. Bring vinegar and sugar to boil in dutch oven. Reduce heat and simmer 15 minutes. Place cloves on a 6 inch square of cheese cloth. Tie with string. Add spice bag and cinnamon sticks to vinegar mixture. Add half of peaches and cook 10 minutes. Remove peaches with a slotted spoon. Repeat with remaining peaches. Bring syrup to a boil, remove from heat. Add peaches. Cover and let stand 8 hours. Remove peaches with a slotted spoon. Pack in to hot jars. Remove and discard spice bag and cinnamon sticks. Bring syrup to a boil. Pour over peaches filling to 1/2 inch from top. Remove air bubbles, wipe jar rims, cover at once with metal lids and screw on bands. Process in a boiling water bath 20 minutes. Makes 3 quarts.
CFF Shared by Audree


I love pickled watermelon rind, but this is made with the actual fruit itself and not the rind. If I wasn't terrified of canning, I'd make it just to see what a pickled watermelon fruit tastes like. Probably delicious. If anyone on the list cans, and decides to make this, let me know how it is. :-) Bev
Ripe Watermelon Pickles
4 quarts diced red watermelon (remove all seeds)
5 cups sugar
1/4 tsp salt
1/2 cup cider vinegar
2 slices of lemon
1 tbsp cracked whole cinnamon
1 tsp whole cloves
Put diced watermelon in a colander and with your hands, squeeze out as much juice as possible. Let drain for 1 hour.*** Put melon, sugar, salt, vinegar and lemon in a large heavy kettle. Add spices tied in a cheesecloth bag. Cook slowly 50 to 60 minutes. Stir occasionally to prevent sticking. Pack at once into hot sterilized jars and seal. Makes about 2 pints.
***Bev's note: Why not use the watermelon juice in a refreshing drink with ice cubes, over club soda, seven up, or champagne :-)


Zucchini Pickles
Recipe By: Elizabeth Powell
Serving Size: 64
2 lbs zucchini, sliced 1/8" thick
2 medium onions, sliced thin
1/4 cup salt
2 cups white vinegar
2 cups sugar
2 tsp yellow mustard seed
1 tsp celery seed
1 tsp turmeric
1/4 tsp mustard powder
Slice zucchini and onions into a large ceramic bowl. Toss with salt; cover with ice water. Let stand for two hours; drain thoroughly. Combine remaining ingredients in a saucepan and bring to a boil. Simmer five minutes. Pour vinegar mixture over zucchini and onions, tossing to coat. Let stand two hours. Bring to a boil and cook for five minutes. Pack into four sterilized pint jars. Seal and process in boiling water bath for 10 minutes. Makes 64 two-tablespoon servings. Yield: 4 pints
CFF Shared by Sandy


Hearty Zucchini Relish
3 medium carrots, finely chopped
3 medium sweet red peppers, finely chopped
1 qt finely chopped pickling cucumbers
1 qt finely chopped zucchini
2 qts finely chopped peeled green tomatoes
2 qts finely chopped onion
1/2 cup pickling salt
Combine vegetables in a large bowl. Sprinkle with salt. Let stand overnight. Drain vegetables; place in large kettle.
3 cups sugar
1/2 tsp cayenne pepper
1-1/2 cups cider vinegar
2 tbsp pickling spices
Add sugar, vinegar and cayenne pepper to vegetables. Tie pickling spices in cheesecloth bag; add to kettle. Bring to boiling; reduce heat and simmer 45 minutes. Pour into 6 hot, clean pint jars, leaving 1/4 inch headspace. Process for 15 minutes in boiling water bath. Makes great tartar sauce when mixed with mayonnaise.
CFF Shared by Sandy






Webpage designed by: Leilani Devries.
Editor: Bev Schneiderman