White Chocolate Celebration Cake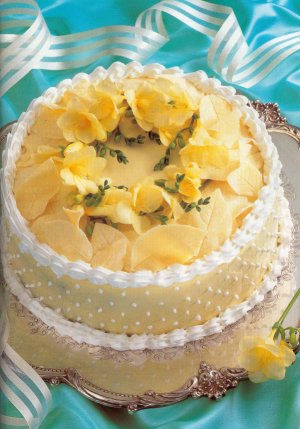 White Chocolate Celebration Cake
Serves 40-50
8 cups all-purpose flour
1/2 tsp salt
4 tsp baking soda
1 lb white chocolate, chopped
2 cups heavy cream
2 cups unsalted butter, softened
4 cups sugar
12 eggs
4 tsp lemon extract
Grated zest of 2 lemons
1-1/3 cups buttermilk
Lemon curd, for filling
Chocolate leaves, to decorate
Lemon Syrup:
Scant 1 cup sugar
1 cup water
1/4 cup lemon juice
Buttercream:
1-1/2 lbs white chocolate, chopped
2-1/4 lbs cream cheese, softened
2-1/2 cups unsalted butter, at room temperature
1/4 cup lemon juice
1 tsp lemon extract
Divide all the ingredients into two equal batches, so that the quantities are more manageable. Use each batch to make one layer of the cake. Preheat oven to 350 F. Grease a 12-inch round cake pan. Line with baking parchment. Sift the flour, salt and baking soda into a bowl and set aside. Melt the
chocolate and cream in a saucepan over medium heat, stirring until smooth. Set aside to cool to room temperature.
Beat the butter until creamy, then add the sugar and beat for 2-3 minutes. Beat in the eggs, then beat in the melted chocolate, lemon extract and zest. Gradually add the flour mixture, alternately with the buttermilk, to make a smooth pouring mixture. Pour into the pan and bake for 1 hour or until a toothpick inserted in the cake comes out clean.
Cool in the pan for 10 minutes, then turn the cake onto a wire rack and cool completely. Wrap in plastic wrap until ready to assemble. Using the second batch of ingredients, make another cake in the same way.
Make the lemon syrup. In a small saucepan, combine the sugar and water. Over a medium heat, bring to a boil, stirring until the sugar dissolves. Remove from the heat, stir in the lemon juice and cool completely. Store in an airtight container until required.
To make the buttercream, melt the chocolate. Cool slightly. Beat the cream cheese in a bowl until smooth. Gradually beat in the cooled white chocolate, then the butter, lemon juice and extract. Chill.
Split each cake in half. Spoon syrup over each layer, let it soak in, then repeat. Spread the bottom half of each cake with lemon curd and replace the tops.
Gently beat the buttercream in a bowl until creamy. Spread a quarter over the top of one of the filled cakes. Place the second filled cake on top. Spread a small amount of softened butter over the top and sides of the cake to create a smooth, crumb-free surface. Chill for 15 minutes, so the buttercream sets a little.
Place the cake on a serving plate. Set aside a quarter of the remaining buttercream for piping, then spread the rest evenly over the top and sides of the filled cake.
Spoon the reserved buttercream into a large icing bag fitted with a small star tip. Pipe a shell pattern around the rim of the cake. Decorate with chocolate leaves, made with dark or white chocolate (or a mixture) and fresh flowers.
Next Special Cake!