Rainbow Cake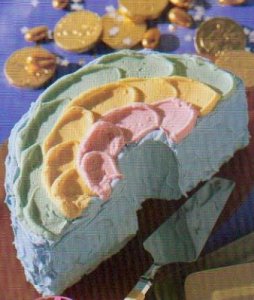 This is a fun cake for a birthday party
or any special occasion. It is from
Richard Simmons "Sweetie Pie" Cookbook.
Rainbow Cake
Cake:
1-1/2 cups cake flour
1 tsp baking powder
1/2 tsp baking soda
1/4 tsp salt
1/4 cup (1/2 stick) 70% buttermilk-vegetable oil spread, room temperature
1 cup granulated sugar
1 large egg, separated
1 tsp pure vanilla extract
1 large egg white
2/3 cup low-fat buttermilk
1/2 cup flaked sweetened coconut
Frosting:
3 cups confectioners' sugar
1/4 cup (1/2 stick) 70% buttermilk-vegetable oil spread
2 tsp pure vanilla extract
1/2 tsp rum extract
1/4 tsp salt
2 tbsp low-fat milk (1%)
Red, yellow, green, and blue food colorings
Preheat oven to 350 F. Lightly coat 9-inch springform pan with nonstick cooking spray.
Make cake: In medium bowl, stir together flour, baking powder, baking soda, and salt. In large bowl, with mixer on medium speed, beat vegetable oil spread until smooth. Beat in sugar until blended. Beat in egg yolk until light, then vanilla.
In a separate bowl, with clean beaters, beat egg whites on medium-high until soft peaks form. Alternately fold flour mixture and buttermilk into yolk mixture, beginning and ending with flour. Fold in egg whites and coconut. Pour into prepared pan. Bake in 350 F oven until firm, and a wooden pick inserted in center comes out clean, about 30 minutes. Cool cake in pan on wire rack.
Make frosting: In bowl, mix sugar, vegetable oil spread, vanilla and rum extracts, and salt. Add 1 tbsp milk. With mixture on medium speed, beat until smooth and fluffy. Stir in enough milk to make mixture spreadable, about 1 tbsp more.
Place 2 tbsp frosting in small bowl and tint pink with 1 drop red food coloring. In another bowl, tint 3 tbsp frosting yellow. Then tint 1/4 cup frosting green and the remaining frosting light blue.
Assemble cake: Remove cake from pan. Cut cake vertically in half through center to make two half-moons. Using a 3-inch-diameter round cutter, cut out half moon from straight side of each cake half to make rainbow shape. (You will not need the cutouts for this recipe, but you can glue the two semicircles together with a little frostng, and then cover the outside with yellow frosting, and then cover the outside with yellow frosting. Say hello to Mr. Sun!)
Spread 2 tbsp blue frosting across the flat top of one cake half. Stack other cake half on top and press to "glue" together. Place on serving platter. Spread all vertical sides (including cutout side) with blue frosting. Spread pink frosting into 1-inch-wide strip to form shortest arc of rainbow. Follow with yellow arc, then green.
Makes 14 servings.